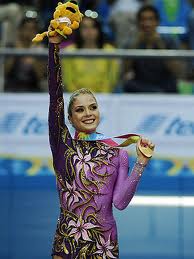 Queen of the Pan American Games Guadalajara 2011, Cynthia Valdez, was named Ambassador of Tequila.
In a ceremony at the Government Palace of Jalisco, Guadalajara gymnast who won two golds and three silvers at the last Pan American Games, was named as the representative image of the drink of Mexico, Tequila.
Valdez received recognition accompanied by her beautiful mother, as well as Government Secretary Fernando Guzman and the directors of the Tequila Regulatory Council, and then have breakfast with personalities from the government of Jalisco. The governor, Emilio González Márquez, was not present at the event.
"It makes me proud to be an ambassador of Tequila, because if you talk about the Tequila Mexico comes to mind is the representative of our country drink and Jalisco," Ochoa said.
Regarding the invitation from the International Gymnastics Federation to participate in the 2012 London Olympics, the Jalisco does not hurry, yet expected to confirm this situation as a dream in his career.
"It depends on Mexico, depends on the International Olympic Committee and the Federation, will be waiting (Wild Card). It really is a dream I've always had, for two past Olympic cycles, which was Athens 2004 and Beijing 2008, so if today gives me the opportunity of London 2012, obviously is an additional motivation I have, but if there is no no matter, I have reason enough to feel happy, "he said.
Of the ankle injury that caused so much controversy, the beautiful gymnast announced that the recovery is going well and appears to be operated, as was said a few days ago.
"I'm much better, right now I'm resting and I'm not forcing my foot, do not enter the same, me being conducted to see how the recovery process and most importantly it is the safest thing is that no operation I was told, "said Pan American medalist.